Record Store Day 2023 brings more classics to vinyl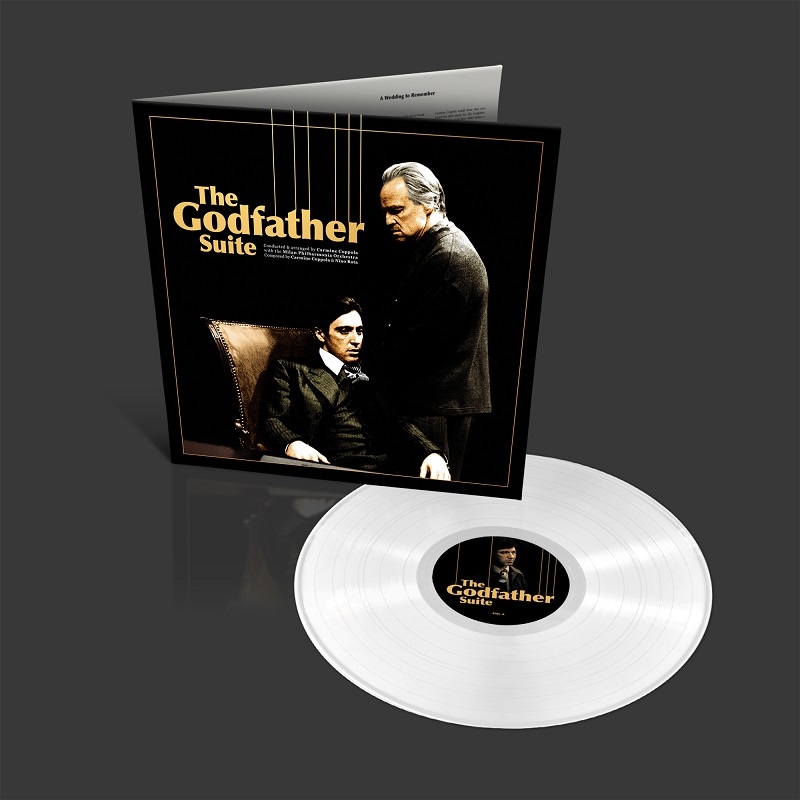 Record Store Day 2023 is April 22nd and will once again contain many must have titles for movie lovers to try and big as each release is limitjed in numbers. Silva Screen Records will be releasing three very different and very collectible titles.
Here's the lowdown on each one:
The Godfather Suite - Pearl White Vinyl, Gatefold Sleeve, Limited Numbered Edition of 700: The Coppola family have loomed large in film and the arts for decades, and at their head, a brilliant composer, arranger and conductor: Carmine Coppola. On the face of it, this album is a bit of a curiosity, though it was surely the first recording to bring together music from both Godfather films in this way. Its original release coincided with a high-profile television event called The Godfather: A Novel for Television (also known as The Godfather Saga).  The extended cut necessarily featured additional music and arrangements, which were overseen by Carmine Coppola. We can safely assume that at least some of that forms part of what is included in The Godfather Suite. For it, Coppola selected and re-arranged musical highlights from the two films, including all of Rota's main themes and his own source music pieces, creating what is essentially a 14-part symphonic suite. It's all beautifully executed, with great romantic flourishes, and it's a fitting tribute to Carmine Coppola's talent, not to mention his contribution to two legendary films. Carmine Coppola himself passed away just months after the release of The Godfather Part III. A highlight of that final score is the 'Love Theme', which was the basis of Carmine Coppola and lyricist John Bettis's Oscar-nominated original song 'Promise Me You'll Remember'. The instrumental arrangement is included here in addition to the Suite.
The Conversation - Transparent Red Vinyl, Gatefold Sleeve, Limited Numbered Edition of 1000: David Shire's captivating soundtrack to The Conversation is reissued in remastered form alongside new artwork and album notes from film music journalist Michael Beek. Francis Ford Coppola's 1974, tense contemporary thriller, gives The Godfather: Part II a run for its money when it comes to citing the director's best. The Academy Awards agreed, nominating both for a Best Picture Oscar in its 1974 batch, though the brilliant Corleone sequel would pip The Conversation to the post on the night. Gene Hackman plays hi-tech wiretapper Harry Caul, a master in his field but away from his job a socially awkward loner. Composer David Shire captures his twilight world with a magnificent score entirely performed on solo piano. The jazz flavour counteracts perfectly alongside Harry's lonely sax playing in his apartment, his escape from his insidious occupation. Shire, Coppola's brother-in-law having married his sister Talia had made his mark on Broadway and Hollywood as a composer, songwriter and arranger. His scores include some of the biggest films of the 1970s including The Taking Of Pelham 123, All The President's Men and Norma Rae, the latter securing him an Oscar for Best Music, Original Song, It Goes Like It Goes.
The Devil Rides Out - Original Artwork, Pentacle-shaped Picture Disc, Limited Numbered Edition: Following on from The Devil Rides Out's vinyl debut in October 2022, this limited edition picture disc features selected tracks by lauded horror composer James Bernard taken from the same LP. This classic 1968 film based on Denis Wheatley's novel of the same name with a script by Richard Matheson and directed by Terence Fisher remains one of Hammer's most popular.
If you're a musc fan then you must stream these titles for free from the wedotv line-up: Joy Division is a chronological account of the influential late 1970s English rock band, for a unique portrait of Woody Allen and his passion for jazz check out Wild Man Blues, captured by acclaimed director Ron Howard Made in America sees Jay Z take us behind-the-scenes during one of the year's biggest concerts, narrated by Johnny Depp When You're Strange charts the rise of legendary 60s group The Doors and Legends of Rock looks at the genre of Heavy Metal!